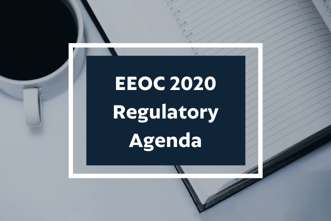 Last week, the EEOC released its regulatory agenda providing employers insight into the agency's anticipated movements in the coming year. The EEOC indicates they are considering rule-making that may include a new report requiring employers to submit pay data or related information as "reasonable, necessary, or appropriate enforcement of Title VII and the Equal Pay Act." The Advance Notice of Proposed Rulemaking – the first step in putting a new reporting requirement in place - is scheduled to be published by September 2020.
If published in September, a public comment period would end by November 2020. EEOC would seek comments regarding potential benefits, appropriate methods of collecting pay data and burdens on employers who would report the pay data. They would also seek comments on the proposed collection and alternatives suggested by commenters.
EEOC also stated that they will revisit a report from the National Academy of Sciences entitled Collecting Compensation Data from Employers, which was published in 2012. This study was commissioned to assess the potential benefits and burdens of collecting pay data from employers. Some of the issues to be examined during this review include preparing a plan for using the data collected, ensuring that the data collection will enhance EEOC's enforcement efforts, and, importantly, assessing the EEOC's capacity to collect and analyze the data. They also plan to learn from State and local efforts already in place for collecting and analyzing pay data.
In another development, EEOC is scheduled to issue a proposal to "clarify when an entity is covered under the federal EEO laws as a joint employer." This is certainly an interesting development, especially considering that the EEOC's rulemaking authority under Title VII of the Civil Rights Act of 1964 is limited to procedural, recordkeeping, and reporting matters. As with other new rules, a 60-day public comment period will follow the publication of the new rule.