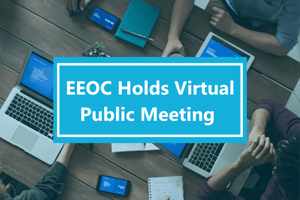 Due to the COVID-19 pandemic, the U.S. Equal Employment Opportunity Commission (EEOC) held its first remote, audio-only Commission meeting this week. This was the first remote meeting in the agency's history. During this meeting, the Commissioners reviewed three policy items – the creation of an opinion letter related to the Work Opportunity Tax Credit (WOTC), as well as the rescission of two sections of the agency's Compliance Manual.
The Commissioners voted 2-1 in favor of issuing a formal option letter explaining how EEOC-enforced laws do not prevent employers from using the WOTC. The WOTC is a federal program that is designed to increase employment opportunities for people experiencing certain barriers to employment such as Veterans, the long-term unemployed, or public assistance recipients. Employers receive tax credits when they hire and retain individuals from these groups.
To qualify for the tax credit, employers are required to obtain official confirmation of job applicants' WOTC stats before making them an offer of employment. The opinion letter will explain how EEOC-enforced laws do not prevent employers from using the WOTC. EEOC previously published informal discussion letters addressing these questions.
Informal discussion letters published in 2010 and 2012 stated that knowing that an applicant is eligible for WOTC does not make a decision to hire the applicant discriminatory under the laws that EEOC enforces. However, these informal discussion letters could not be relied upon as a defense in court. Once EEOC releases the formal opinion letter, it will provide a defense under Title VII and the ADEA because it is a written opinion of the Commission.
The Commissioners also voted 2-1 to rescind Section 604 of the EEOC's Compliance Manual, Theories of Discrimination. This section contains statements of the law that are no longer accurate, and other EEOC guidance has provided more relevant discussions of the same principles. The Commissioners also voted to rescind Appendix C of Section 604, Polygraph Examinations, as it is rarely used.