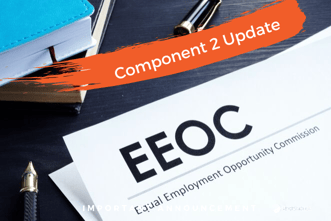 In an interesting twist in the ongoing saga about the collection of employee pay data by the federal government, the EEOC announced in a Federal Register Notice that it will not seek renewal of Component 2 of the EEO-1 Report under the Paperwork Reduction Act (PRA). Importantly, this decision does not change the deadline for filing the 2017 and 2018 Component 2 data by September 30, 2019.
The notice, which is subject to a 60-day comment period, seeks Office of Management and Budget (OMB) approval to continue to collect Component 1 of the EEO-1 form. The current OMB approval includes Component 1, which collects employee race/ethnicity and gender information in ten EEO-1 categories, and Component 2, which adds a requirement to report pay data and hours worked information. The notice indicates that EEOC is separating the two components, and creating a new control number for Component 1, which allows the EEOC to continue collecting Component 1 data.
In not seeking approval for continuing Component 2, the EEOC noted that it had re-examined the methodology used to calculate the original burden estimates on employers for the EEO-1 Component 2 and concluded that these estimates did not follow the proper standards and resulted in significantly underestimating the burden of compiling Component 2 information. The Commission concluded that it should consider whether the data collected during the current Component 2 data collection is useful before deciding whether to submit a pay data collection to OMB. The EEOC states, "At this point in time, the unproven utility to its enforcement program of the pay data as defined in the 2016 Component 2 is far outweighed by the burden imposed on employers that must comply with the reporting obligation. Therefore, the EEOC is not seeking to renew Component 2 of the EEO-1."
More information can be found in https://federalregister.gov/d/2019-19767.