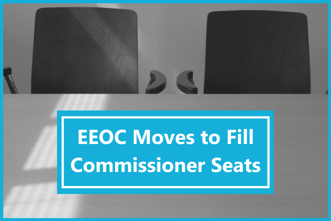 The US EEOC Commission is a bipartisan Commission comprised of 5 presidentially appointed members who serve for five-year terms. The EEOC has 5 commissioner seats, 3 of which typically are of the same political party in the White House. Currently, only three of the five positions are filled, and Victoria Lipnic has indicated she is not seeking another appointment when her term expires in July. The Commission needs three members for a quorum, and the Trump administration has announced plans to nominate two individuals to the Commission. The nominations include Andrea Lucas and Jocelyn Samuels, both of whom need to be confirmed by the Senate.
Ms. Lucas has been with employer side firm Gibson Dunn Associates for more than a decade, where she practices in the firm's labor and employment and litigation groups.
Ms. Samuels is a former civil rights official in the Obama administration and currently works at a think tank focused on sexual orientation and gender identity law and policy. She was an EEOC attorney, labor counsel for a Senator, Director of the Department of Health and Human Service's Office for Civil Rights and has previously worked for the Department of Justice and the National Women's Law Center.
The timing of the Senate confirmation is not currently known.