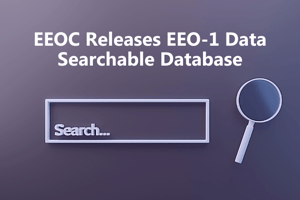 On December 2, 2020, the Equal Employment Opportunity Commission (EEOC) revealed a new online tool that allows the public to search workplace demographics and diversity within local areas. The tool, EEOC Explore, has interactive functions that allow users to access and search within aggregated data from the EEO-1 reports that are filed each year by federal contractors and other businesses.
Currently, only data from the 2017 and 2018 EEO-1 reports are searchable and can be accessed for demographics and workplace diversity information. However, the EEOC plans to expand the collections and use the EEOC Explore platform to make more data collected from the EEO-1 reports accessible.
Some of the beneficial items this tool allows are the options for members to search the statistics of race, ethnicity, and sex within the report's employment data at both nationwide and state level. The tool also has a side by side comparison option to compare workplace demographic with different states or regions. This tool will be extremely helpful for tracking employment trends and analyzing job diversity and demographic patterns.
While this tool allows for public access to company data, the access to specific company data is not available as the EEOC committed to protecting the confidentiality of both employees and employers who submit the EEO-1 survey. More information about the EEOC web tool, EEOC Explore, can be found here.