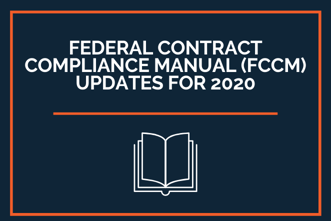 It looks like OFCCP is ringing in the new year with a continued commitment to their resolution of transparency. The agency recently updated its Federal Contract Compliance Manual (FCCM). This manual provides guidance to OFCCP's compliance officers for conducting compliance evaluations and complaint investigations. It is also available to federal contractors to offer compliance assistance. There were over 70 sections updated in this new release, the majority of the updates were made to bring the FCCM up-to-date with regulatory and practice changes.
The revisions to the FCCM incorporated the focused review, transparency, early resolution procedures (ERP), compensation, Functional AAPs (FAAPs), and predetermination notice (PDN) directives. Changes also included inserting the new protected bases such as sexual orientation and gender identity, as well as discussing, disclosing, and inquiring about compensation.
Particular edits that may interest some contractors are:
A description of Academic Institution Evaluations
A description of how OFCCP will use the System for Award Management (SAM) to determine administrative closures of compliance evaluations
Compliance officers will now query the VETS-4212 database online to verify compliance with the annual reporting requirement.
A new section explaining FAAP agreements
Updated language on procedures for addressing complaints, and
A Sample Onsite Review Plan to be used as a template and tool for Compliance Officers has been added to the Appendix
Berkshire is continuing to review the changes and will provide additional updates as warranted. To see the full list of changes click here.