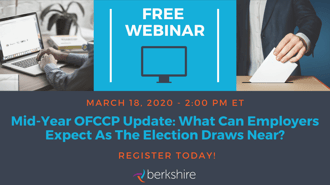 Berkshire is pleased to announce that our very own Lynn Clements will join forces with the National Industry Liaison Group (NILG) to present on what employers can expect as the election draws near.
When: March 18, 2020 from 2:00-3:00 p.m. (ET)
What: [Free Webinar] Mid-Year OFCCP Update: What Can Employers Expect As The Election Draws Near?
Who: Lynn Clements, Esq of Berkshire
In an election year, agency officials across the government are hard at work implementing this administration's enforcement priorities and goals. Join Lynn Clements of Berkshire to learn more about what to expect from OFCCP in 2020. Lynn, a former senior policy official at OFCCP and EEOC, will share insights from recent OFCCP compliance reviews and settlements, discuss strategies to prepare for OFCCP's focused review program, and preview what OFCCP's top priorities will be as 2020 comes to a close. Whether you are on the OFCCP's Scheduling List or not, this presentation will provide you with practical tips and proven strategies for developing a successful affirmative action compliance program.

As Director of Regulatory Affairs for Berkshire, Lynn oversees Berkshire's audit defense practice, helping clients defend hundreds of OFCCP compliance reviews. Previously, Lynn served as Acting Director/Deputy Director of the Policy Division of OFCCP, as a senior policy advisor at the EEOC, and as a shareholder at a management-side law firm where she advised clients on the full range of employment issues, including class discrimination claims. A frequent speaker to HR professionals, Lynn has testified before Congress on EEO and pay equity issues and regularly assists industry organizations, including SHRM and CUPA-HR, in understanding and responding to regulatory proposals. She serves as Secretary for the BILG, as a faculty member for the Institute for Corporate Equality, and on the U.S. Chamber of Commerce Washington Corporate Representatives Committee. Lynn graduated summa cum laude with a B.S. and B.A from Wilkes University and earned her J.D. cum laude from Georgetown University.

After registering, you will receive a confirmation email containing information about joining the webinar.