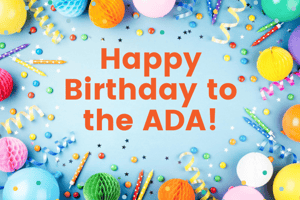 On July 26th, the Americans with Disabilities Act (ADA) turns 30 years old. This landmark legislation was signed into law by President George H.W. Bush in 1990 as the world's first comprehensive civil rights law for people with disabilities.
The purpose of the ADA is clearly stated in the preamble of the legislation:
"Enactment of the ADA reflects deeply held American ideals which treasure the contributions which individuals can make when free from arbitrary, unjust, or outmoded societal attitudes and practices that prevent the realization of their potential. The ADA reflects a recognition that the surest path to America's continued vitality, strength and vibrancy is through the full realization of the contributions of all of its citizens."
The ADA was preceded by other pieces of important legislation that paved the way, such as the Rehabilitation Act of 1973 and the Education of All Handicapped Children Act of 1974. The ADA was more comprehensive than its predecessors and bans discrimination on the basis of disability in the areas of employment, public accommodation, public services, transportation and telecommunications. Since being enacted, the Supreme Court has heard numerous cases regarding the ADA, including what is the definition of a disability. In 2008, Congress enacted the ADA Amendments Act (ADAAA) which significantly broadened the definition of a disability and shifts the focus to if discrimination occurred versus whether the person has a disability. This update also broadened the definition of a disability under the Rehabilitation Act of 1973.
While the ADA provides protection in many aspects of society, for employers, it is important to understand how the law impacts the workplace. Title I of the ADA prohibits employers, state and local governments, employment agencies and labor unions from discriminating against qualified individuals with disabilities in job application procedures, hiring, firing, advancement, compensation, job training, and other terms, conditions, and privileges of employment.
Additionally, employers are required to provide reasonable accommodations to qualified individuals with disabilities. A qualified individual is an individual who, with or without reasonable accommodation, can perform the essential functions of the employment position that the individual holds or desires. So, this applies to both employees and job seekers.
Essential functions of a job are the core duties that are the reason the position exists. It's important to understand and quantify what the essential functions are, because it assures that an individual with a disability will be considered qualified based on the core functions of the job. For example, assume an essential function of a data entry position is the ability to type, which a candidate can do without accommodations. If a non-essential function is to occasionally lift 40 pounds overhead and a candidate cannot lift that much safely, that candidate cannot be considered not qualified on that basis.
A reasonable accommodation is any modification or adjustment to a job, application process, or work environment that will enable a qualified applicant or employee with a disability to participate in the application process, perform the essential functions of the job, or enjoy the benefits and privileges of employment. Examples of reasonable accommodations are providing a stool to a cashier who is unable to stand for long periods of time; restructuring work hours to allow for weekly doctor's appointment for ongoing treatments; and providing anti-glare computer screens.
An employer may claim that an accommodation would be unreasonable if it would cause them an undue hardship. An undue hardship could be based on difficulty to implement or maintain, or expense involved. This is not the same for all organizations, as financial resources and nature of a business would be taken into consideration. However, studies have shown that 58% of accommodations have no cost. Of those with a cost, it is on average about $500.
During the current COVID-19 pandemic, the application of the ADA is important to understand in the workplace. While employers may ask employees who call in sick if they are experiencing symptoms of COVID-19, all information is to be kept confidential as a medical record. During the pandemic, employers may also require a doctor's note certifying fitness for duty prior to an employee's return to work. Reasonable accommodations already in place must stay in place during the pandemic. However, given the rapid disruption in work, interim solutions may be necessary.
Thirty years ago, the ADA opened the doors for individuals with disabilities in the workplace, but there is still work to be done to fully realize the purpose of the ADA. The talent pool of individuals with disabilities is estimated at about 6 million people, and the unemployment rate for individuals with a disability is double the national average. However, studies have shown that organizations that actively seek to employ individuals with disabilities have higher revenues, net income, profit margins and employee retention. Additionally, individuals with disabilities bring to the workplace diverse skills and unique perspectives. Aside from compliance obligations, it is in this spirit that organizations should look to increase recruiting and retention efforts of a diverse workforce that includes individuals with disabilities.
Resources to help in workplace ADA compliance efforts can be found at the Office of Disability Employment Policy website (www.dol.gov/odep). ODEP is a non-regulatory division of the Department of Labor dedicated to workplace success for individuals with disabilities. They routinely work with employers through resources like the Employer Assistance and Resource Network on Disability Inclusion (https://www.dol.gov/odep/resources/EARN.htm) and the Job Accommodation Network (https://www.dol.gov/odep/resources/jan.htm).
COVID-19 and ADA specific resources are provided by the EEOC at https://www.eeoc.gov/wysk/what-you-should-know-about-covid-19-and-ada-rehabilitation-act-and-other-eeo-laws and https://www.eeoc.gov/laws/guidance/pandemic-preparedness-workplace-and-americans-disabilities-act.