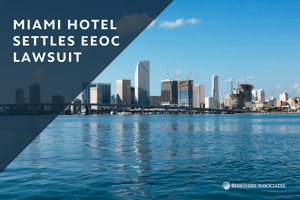 The SLS Hotel, operating in Miami Florida, has agreed to pay $2.5 million in a recent settlement brought about by the Equal Employment Opportunity Commission (EEOC). The lawsuit alleges that black Haitian dishwashers were wrongfully terminated based on their race, color, and national origin. A staffing agency then filled the positions, in turn creating a workforce of predominately Hispanics with light or fair skin. Hotel and nightlife company SBE operates the SLS Hotel. SBE operates hotels and restaurants located both domestically and internationally. The company prides itself on creating an extraordinary experience for the community throughout each of its proprietary brands, according to its mission statement.
The former employees testified that their supervisors would often refer to them as "slaves," and they were scolded when they spoke Creole, while Hispanic employees could speak Spanish without being reprimanded. The testimony further revealed that the Haitian dishwashers complained to human resources about the discrimination allegations as well as having an alleged racist supervisor, and the employees were fired without providing an opportunity for them to apply to the staffing agency before their last day of work.
The $2.5 million settlement will be given to 17 former employees. The hotel also agreed to provide inclusive training for management personnel, HR officials as well as hourly employees across six of SBE's South Florida Hotels. An independent consent decree monitor will attend the training sessions and provide reports to the EEOC. An added component of the agreement requires that the EEOC receive data related to any terminations, layoffs, and involuntary separations that may occur over a three-year period for each of the six hotels.
EEOC filed the suit against SLS Hotel South Beach in the U.S. District Court for the Southern District of Florida—Miami Division after conciliation efforts failed. Michael Farrell, district director for the EEOC's Miami District Office, stated, "EEOC will continue to protect workers in the hospitality industry, including the black Haitian community that makes up a significant part of the South Florida workforce."