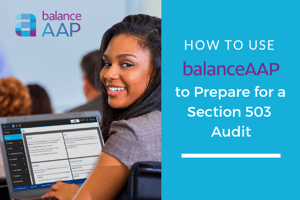 Do you own Berkshire's affirmative action software, balanceAAP? Join two of Berkshire's affirmative action experts, Sonia Chapin and Sybil Randolph of Berkshire Associates on April 10 at 1 p.m. for this Section 503 webinar: Using balanceAAP to Prepare for a Section 503 Audit.
Register today and hear presenters review the elements of the Focused Review Scheduling Letter with an emphasis on responding to the letter using balanceAAP. The presenters will review technical tips for generating compliant reports as well as the reports that correspond to each item in the new scheduling letter. Finally, to ensure your organization is completely ready to respond to the new scheduling letter, Sybil and Sonia will review the information required by the scheduling letter that is not typically included in an annual affirmative action plan.
Recently, OFCCP announced it would conduct focused reviews of federal contractors' Section 503 compliance during its Fiscal Year 2019 scheduling cycle. It is important for federal contractors to take the necessary steps to ensure equal employment opportunity and affirmative action for Individuals with Disabilities.
Check out other topics in this webinar series.