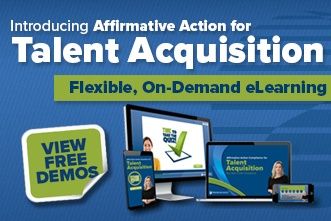 Recently, Berkshire Associates announced the availability of Affirmative Action for Talent Acquisition eLearning course for federal contractors. Talent Acquisition is critical to AA/EEO compliance, and hiring activities remain a high-risk area for violating federal guidelines. Berkshire's Affirmative Action for Talent Acquisition is the perfect solution to help educate employees with hiring responsibility on requirements, and ensure recruitment activities are approached with the law in mind. See a sneak peek demo here.
The eLearning course covers the following topics:
Affirmative action regulations
Affirmative action plan analyses that impact recruitment
OFCCP definition of an Internet Applicant
Strategic techniques for sourcing candidates
Targeted outreach and recruitment
The role talent acquisition plays in Affirmative Action compliance
If you're responsible for your company's affirmative action plan, you now have a tool to inform front-line recruiters of affirmative action and related efforts, including placement goals, job listing, outreach efforts, data collection, and documentation requirements.
Contact us at 800.882.8904 or bai@berkshireassociates.com for more information on Affirmative Action for Talent Acquisition.