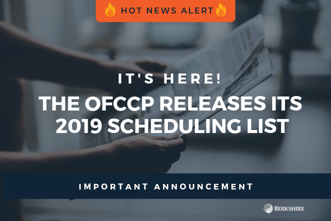 The OFCCP has published the FY2019 Supply and Services Corporate Scheduling Announcement List (CSAL) on its website. As mentioned previously, OFCCP will not send courtesy letters to contractors that the agency plans to review, prior to sending the scheduling letter. OFCCP has instead posted the list of 3,500 planned reviews.
Here's the breakdown by type:
Section 503 Focused Reviews

–

500
Corporate Management Compliance Evaluation (CMCE) Reviews – 83
Compliance Checks – 500
Establishment Reviews – 2,345
Functional Affirmative Action Program (FAAP) Reviews – 72
This notice provides contractors with at least 45 days courtesy notification prior to when the OFCCP will begin sending scheduling letters. Contractors will then have 30 days to submit their Affirmative Action Plans and supporting documentation. No more than 15 establishments from any one parent company is on the list. If an establishment has been audited or concluded progress report monitoring resulting from a conciliation or consent decree within the past two years, that establishment is not subject to a review from this list.
Contractors can see if one or more of your establishments are on the list by going to the link at: https://www.dol.gov/ofccp/scheduling/index.html. For more information, please contact us at 800.882.8904, bai@berkshireassociates.com, or request more information on affirmative action plans here.