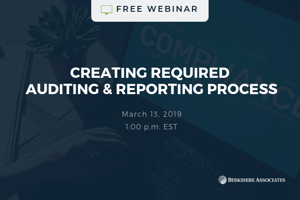 RECORDED: March 2019
If you were not able to tune in for the first three webinars in the Section 503 compliance webinar series, you definitely do not want to miss this next one titled Creating Required Auditing & Reporting Process. On March 13, 2019, at 1:00 p.m. EST, Sonia Chapin, Managing Consultant and Audit Advisor at Berkshire Associates, will discuss the requirement contractors have to monitor and report on their Affirmative Action efforts for Individuals with a Disability, and the responsibility to correct for deficiencies in their program should they exist. Contractors will learn steps they can take to satisfy the requirement, including best practices for documenting the actions taken to comply. Sonia will also discuss how to respond to OFCCP's request for records during a compliance review.
Recently, OFCCP announced it would conduct focused reviews of federal contractors' Section 503 compliance during its Fiscal Year 2019 scheduling cycle. It is important for federal contractors to take the necessary steps to ensure equal employment opportunity and affirmative action for Individuals with Disabilities. This is the fourth webinar in Berkshire's Section 503 compliance webinar series.
Other topics in the Section 503 series include: