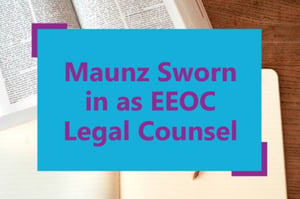 Andrew (Drew) Maunz has been sworn in as Legal Counsel for the U.S. Equal Employment Opportunity Commission (EEOC). In this role, he will be responsible for overseeing internal and external policy for the civil rights agency.
The EEOC's Office of Legal Counsel serves as the principal advisor to the Commission on enforcement matters. The office also drafts regulations, guidance and technical assistance documents, conducts outreach and education efforts, and coordinates on behalf of the EEOC on all federal issues affecting equal employment opportunity. OLC also represents the Commission in defensive litigation and manages the Freedom of Information Act program for the agency.

Maunz has been serving as a special assistant to EEOC Chair Janet Dhillon since July 2019, advising on legal and policy matters. He previously served as a senior attorney for the Social Security Administration.