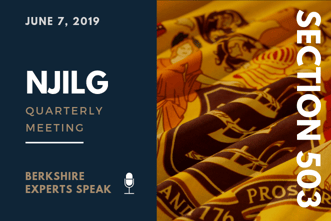 Join VP of Client Services, Cheryl Boyer and Managing Consultant, Sonia Chapin, both of Berkshire Associates, at the New Jersey ILG Quarterly Meeting on June 7, 2019. Cheryl and Sonia will present, "Section 503 Focused Reviews: What We Know and What We Can Predict." During this session, the expert duo will give an overview of the directive and what it means for federal contractors. They will also share insightful predictions on what we might expect from OFCCP and what federal contractors can do to prepare. Click here for registration information, or contact Rehana Iqbal, Vice-Chair Membership, at rehana.iqbal@verizonwireless.com.
Meeting Time
Date: Friday, June 7, 2019
Time: 8:30 a.m. - 3:00 p.m.

Location
Sanofi
55 Corporate Drive
Bridgewater, NJ
08807
About New Jersey ILG (NJILG)
NJILG is one of many local/regional Industry Liaison Groups (ILG) across the country comprised of various-sized federal contractors as the premier employer association on Affirmative Action and Equal Employment Opportunity in the United States. Whether you are new to the field or an experienced professional, the NJILG provides members with professional development opportunities, as well as a venue to engage in meaningful conversations and collaborations across industries, share best practices, and gain practical, actionable knowledge. The NJILG and its Members also have the opportunity to liaise and foster relationships with the United States Department of Labor's Office of Federal Contract Compliance Programs (OFCCP), Equal Employment Opportunity Commission (EEOC) and New Jersey Division on Civil Rights (NJDCR). For more information on member benefits, please click here.
Need a Speaker for Your Next Local SHRM or ILG Meeting?
If you are interested in scheduling a Berkshire speaker to present on AA/EEO topics at your organization's next event, please contact carlap@berkshireassociates.com or 800.882.8904 x 1309.