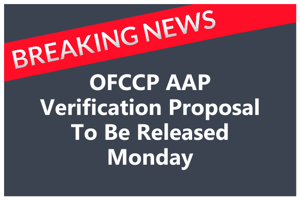 The Office of Federal Contract Compliance Programs ("OFCCP") plans to release its long-awaited AAP verification proposal on Monday. According to a pre-publication notice released today, OFCCP is seeking approval under the Paperwork Reduction Act for an "an annual Affirmative Action Program online certification process for federal contractors and for a secure method for federal contractors to submit AAPs electronically to OFCCP when they are scheduled for a compliance evaluation."
Berkshire is monitoring this new development and will provide updates as we learn them, including a summary of the proposal once it is available. However, all contractors should proactively review their AAP project timelines to ensure they are preparing annual affirmative action plans covering all employees on a timely basis. Although the proposal will go through a public notice and comment period, we expect that OFCCP may hope to finalize this proposal quickly, which means contractors may be required to certify compliance as early as 2021.
Today's pre-publication notice is available at https://www.federalregister.gov/documents/2020/09/14/2020-20105/agency-information-collection-activities-proposals-submissions-and-approvals-affirmative-action.