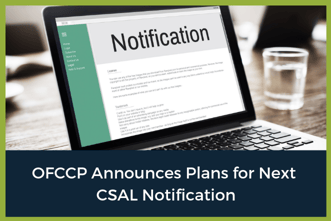 The OFCCP announced its plan to post the next Corporate Scheduling Announcement List (CSAL) in its FOIA Library in mid-to-late March. This will be the only notification to contractors as there are no plans to send mail notifications to establishments on the list. Contractors are strongly encouraged to subscribe to the OFCCP's email updates prior to March. Use the link here to sign up.
The list will also include the compliance checks (DIR 2018-07) and Section 503 Focused Reviews (DIR 2018-04), both outlined in prior OFCCP directives. Berkshire is preparing a more detailed discussion of what to expect to be posted on this blog soon.
Berkshire is hosting a webinar series on the Section 503 Focused Reviews for clients. Sign up for that series here.
For more information on the CSAL see this link.