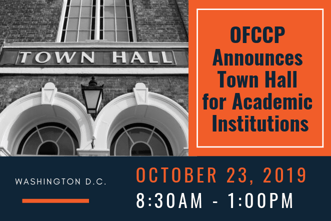 OFCCP announced that they will hold a Town Hall meeting for Academic Institutions on October 23, 2019, from 8:30 AM – 1:00 PM in Washington DC. The session is open to the public for anyone to attend, however the main focus will be directly related to these organizations' compliance with OFCCP requirements.
OFCCP recently released some FAQs for educational institutions, but the anticipated Technical Assistance Guide has not yet been released. The agency indicates feedback from this Town Hall will inform future compliance assistance resources. Interested parties can go here to find out more information or to register.
Be sure to subscribe to this blog for future updates.