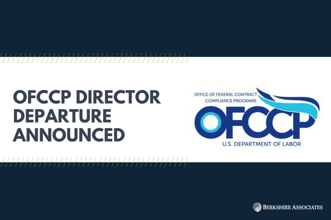 Ondray Harris, Director of the Department of Labor's Office of Federal Contractor Compliance (OFCCP), will be stepping down from that position effective Friday, July 27, according to Bloomberg News. Mr. Harris was appointed to this position in December 2017.
Senior Advisor, Craig Leen, who had been rumored to be hired into the position when Harris was appointed, will serve as acting Director.
This announcement comes less than one week before Mr. Harris and Mr. Leen were scheduled to attend the National Industry Liaison Group national conference in Anaheim, CA. which starts on Tuesday, July 31. Mr. Harris has since been removed from the agenda.