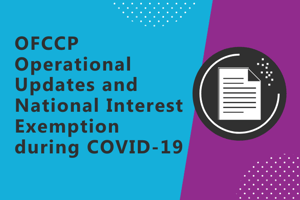 Earlier this week, the Office of Federal Contract Compliance Programs (OFCCP) issued a National Interest Exemption memorandum to facilitate response efforts in support of the COVID-19 pandemic.
With this exemption, OFCCP grants a limited, three-month exemption and waiver from some of the requirements of the laws administered by the agency. Such exemptions are allowed under certain circumstances in the national interest, when it is not possible to response to individual requests for waivers, and when the waiver is made for the convenience of the government. This exemption and waiver extends to all affirmative action and other obligations of supply and service and construction contracts, but does not apply to the processing of complaints of discrimination, nor does it exempt a covered contractor from their obligation to comply with other federal, state and local civil rights laws.
OFCCP has issued this type of exemption for emergency situations related to devastating hurricanes or other natural disasters in the past. These exceptions are specific to contracts that are put in place to respond to the emergency. For example, a company that makes face masks is not currently a federal contractor and receives a contract to supply masks as part of the response to this pandemic. The government can purchase the masks and designate that the contract is exempt from OFCCP requirements. If the contract is not extended beyond the 90-day exemption, the company would not be considered a covered contractor. It is important to note that if a company is currently a covered contractor and signs an additional contract to provide goods in response to the pandemic, the company is still a covered contractor because of their existing contracts.
OFCCP will continue to provide resources to workers and the contractor community through the web, Help Desk, and Contractor Assistance Portal, although walk-in requests for assistance are suspended. The agency will continue to conduct focused reviews, compliance reviews, and complaint investigations, but will be using WebEx and Skype in place of in-person meetings.
Berkshire has already observed flexibility from OFCCP staff with respect to scheduling letters that were mailed in the last week and information requests for open audits have been made with ample time to respond. The OFCCP Ombuds office is available if impacted contractors encounter issues with obtaining extensions.
Berkshire continues to monitor this evolving situation, and we extend our heartfelt appreciation to our clients and other companies who are on the front lines of the domestic response to this pandemic. For further information about COVID-19, please visit the U.S. Department of Health and Human Services' Centers for Disease Control and Prevention.