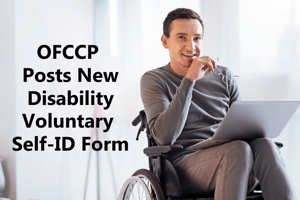 On May 5, 2020, the Office of Management and Budget approved the new Voluntary Self-Identification of Disability form (CC-305) with changes. The revised form expires on May 31, 2023. All contractors should start using the revised form in their applicant tracking and HRIS systems by August 4, 2020.
A link to the PDF and Word versions of the new form can be found here. The site indicates that the form will be available in additional languages.
The form is to be presented to applicants and employees "as-is", meaning without edits, except contractors may insert information for record-keeping purposes at the bottom of the document. This form can be reproduced electronically and if so, it needs to be updated in both HR information systems and applicant tracking systems.
What's changed?
The form was consolidated from two pages to one.
Information in the "Why are you being asked to complete this form?" section has been reorganized. It now includes references to the 7% IWD workforce benchmark, Section 503 of the Rehabilitation Act, and includes a link to the OFCCP website.
The list of sample disabilities was expanded to include:

Autoimmune disorders
Low vision
Cardiovascular or heart disease
Celiac disease
Hard of hearing
Anxiety
Gastrointestinal disorders
Nervous system conditions
Psychiatric conditions

A "Public Burden Statement" was added.
Addition of a "For Employer Use Only" section that allows employers to customize the form for purposes of facilitating recordkeeping.
The "Reasonable Accommodation Notice" section was removed.