This week, OFCCP created a webpa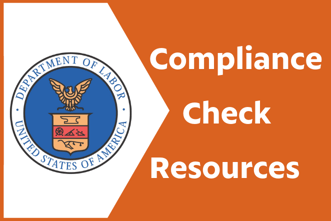 ge to provide contractors more information about the "new" compliance check reviews that will be completed as part of the current round of audits. OFCCP has had the capability to conduct compliance checks for many years but has not opted to schedule them in the recent past. With this round of reviews, OFCCP re-introduced the Compliance Check, to be used in 500 of the 3,000 audits to be scheduled in the coming months. The agency has indicated they intend to schedule up to 1,000 Checks per audit list in the coming years, as a means of ensuring compliance across more contractor establishments.
The website includes many resources already available to contractors, including a link to the scheduling letter that will initiate the Check (note OMB approval on this letter expires next month and the agency has requested significant changes to the letter), a link to the CSAL list, a link to the relevant regulations, and OFCCP office contact information. The most relevant piece of information for contractors is in the FAQ section, where OFCCP clarifies that the Check can occur either on- or off-site. The agency also clarifies the response to item 1 in the existing letter will include:
From the EO plan: The Goal Attainment report, and good faith efforts to expand employment opportunities
From the Section 503 plan: The evaluation of outreach and recruitment efforts—current item 7 on the Establishment Review letter
From the VEVRAA plan: The evaluation of outreach and recruitment efforts—current item 11 on the Establishment Review letter
Berkshire will provide updates on the Compliance Check procedures as they are implemented by the agency—stay tuned to this blog for updates on these and other agency movements!