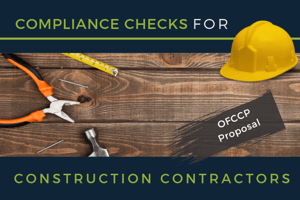 Continuing its focus of ensuring the agency is covering all types of government contractors' compliance with their affirmative action obligations, OFCCP has proposed to conduct compliance checks for construction contractors with direct federal contracts and federally assisted contracts. Comments on the proposal are due June 7, 2019.
Direct federal contracts are those in which the contractor enters into agreements directly with the federal government for the "purchase, sale, or use of personal property, or non-personal services, where the term 'non-personal' includes construction services." For those companies, the compliance check would involve the submission of the following by email or an on-site visit:
Personnel records that list construction trade employment activity (applicants, hires, promotions, layoffs, recalls, voluntary terminations, and involuntary terminations), including the name, job classification, gender, race, and/or ethnic designation for each employee or applicant
Payroll records, including "name or ID, gender, race/ethnicity, hire date, trade(s), total hours worked in each trade, overtime hours worked in each trade, wage rates for each trade, apprenticeship status, and employment type
Job advertisements and postings
Section 503 and VEVRAA affirmative action plans
Documentation of data collection analyses for Veterans and Individuals with a Disability
Requests for accommodations received and their resolution
Documentation of the most recently adopted Veteran hiring benchmark
A federally assisted contract is one in which some or part of the funds are obtained by the federal government (usually in the form of grants, loans, insurance, or guarantees), but where the government is not a party to the construction contract. For federally assisted contractors, companies would submit items (a), (b), (c), and (f) as described above.
For more information, including how to submit comments, see www.regulations.gov, docket 2019-06894.