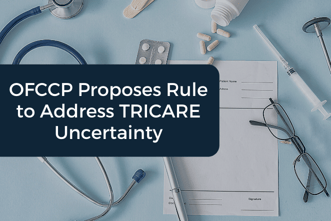 OFCCP published a Notice of Proposed Rulemaking (NPRM) in the Federal Register in early November clarifying its jurisdiction over health care providers who serve beneficiaries of TRICARE.
OFCCP concluded that it "lacks authority over Federal Health Care Providers who participate in TRICARE." The agency's primary concern driving this NPRM was the impact its assertions of jurisdiction on TRICARE health care providers was having on uniformed service members and Veterans access to healthcare. OFCCP also seeks to reduce compliance costs and cost of litigation for regulated entities.
OFCCP will continue to have jurisdiction over health care providers who are TRICARE participants and hold separate covered Federal contracts or subcontracts.
Be sure to subscribe to this blog for future updates.