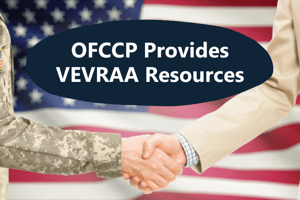 OFCCP has reportedly started scheduling VEVRAA focused reviews from the scheduling list released last Fall. Accordingly, OFCCP has updated their VEVRAA focused review landing page with more information to support federal contractors in their compliance efforts. Visit the VEVRAA focused review landing page here to see a copy of the VEVRAA Scheduling Letter which outlines all of the components that must be submitted to OFCCP.
Whether your company is on the list or not, you may be curious to know what else OFCCP is expecting during a VEVRAA focused review. For example, how is OFCCP expecting contractors to meet the requirement to undertake appropriate outreach and positive recruitment activities that are reasonably designed to effectively recruit qualified protected veterans under 41 CFR 60-300.44(f)? As recent audits have shown, it is no longer enough to simply list your openings with the appropriate employment service delivery system. In one of their latest VEVRAA focused review FAQ's, OFCCP recommends also posting job openings with the National Resource Directory's Veterans Job Bank. You can also show proactive efforts to recruit qualified protected veterans by reaching out to the veterans' representatives or veterans' groups at local colleges and technical schools. And don't forget that OFCCP will want to see if you have done a critical evaluation of the quality of your outreach activities. You should evaluate whether your current efforts are generating quality protected veteran applicants, and if not, considering altering your approach. Check out more VEVRAA focused review FAQs here. And a listing of VEVRAA best practices can be found here.
Did you know that OFCCP offers compliance assistance? You can find additional information about VEVRAA requirements and supporting resources by visiting OFCCP's website. Here you will find things such as compliance assistance guides, general VEVRAA FAQs, and hiring resources to support your VEVRAA compliance efforts.