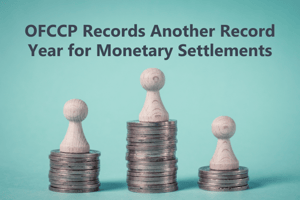 In fiscal year 2020, OFCCP reported monetary recoveries totaling $35.6 million. This is the second highest year in agency history, with only FY 2019 recording a higher total amount recovered, at $40.6 million.
The agency expanded compliance evaluations in FY 2019 and FY 2020 to include compliance checks and focused reviews for Section 503, Vietnam Era Veterans' Readjustment Assistance Act, promotions, and accommodation reviews, although the promotions and accommodations focuses reviews have not been scheduled yet. OFCCP concluded 2,612 evaluations and investigations in FY 2020.
In addition to these reviews, the agency also initiated early resolution procedures that have so far resulted in 29 early resolution conciliation agreements, representing $47.4 million in back pay, $4.5 million in salary adjustments, and 2,071 job offers over two years. More details are available in the agency's press release here.
The agency is off to a quick start in FY 2021 as well. A new Corporate Scheduling Announcement List (CSAL) was released in September and the agency will start sending out scheduling letters to federal contractors and subcontractors from this list once the 45-day courtesy notification period concludes. Contractors can review the CSAL here.