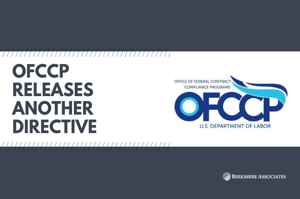 The OFCCP has released a new directive creating the Voluntary Enterprise-wide Review Program (VERP). This directive is voluntary for federal contractors and is targeted towards contractors looking to get themselves in full compliance.
This voluntary compliance effort will ensure contractors comply with EEO/AA initiatives on an enterprise level. The benefit for accepted contractors is a five-year suspension of OFCCP audits. The OFCCP will provide information on how to apply later this year. Part of the application process will be a headquarters compliance review and a review of a subset of the contractors' establishments.
There will be two tiers in this program. High performing federal contractors will be the first tier, to be used as a model for other contractors and will receive the five-year audit exception. The second tier is compliant contractors that will receive a three year exception. The OFCCP anticipates being able to apply to the program electronically in fiscal year 2020. There are more details from the OFCCP here.
If you need assistance with OFCCP compliance, contact us at 800.882.8904 or webinars@berkshireassociates.com.