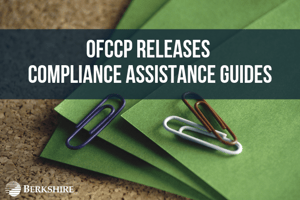 OFCCP recently released a new webpage aimed at providing compliance assistance documents to contractors. This page was developed as a result of the OFCCP town hall meetings and includes an OFCCP overview brochure, which introduces the agency and its enforcement approach to contractors. There is a "what to expect" document, which outlines items the agency expects from contractors as well as the rights contractors have when interfacing with the agency in a compliance review or investigation.
Other documents include recordkeeping obligation documents covering EO 11246, Section 503 of the Rehabilitation Act, and VEVRAA. Each document outlines the requirements and the items needed for affirmative action compliance. Applicant tracking has two new documents – one that addresses FAQs from the agency and an extended infographic that explains the requirements for soliciting demographic data and recordkeeping compliance. Additional resources include a postings and notice guide, which includes a handy checklist of required postings on pages 12 and 13, and links to the as-yet-unleased technical assistance guides for construction and service and supply contractors.
Overall, there are two themes that emerge from this new webpage: OFCCP wants contractors to know they are not targeted for reviews if they seek compliance assistance, and there is an emphasis on the agency's ability to carry out investigations as a result of complaints made directly to the agency. View the new assistance guides here.
Be sure to subscribe to this blog for future updates.