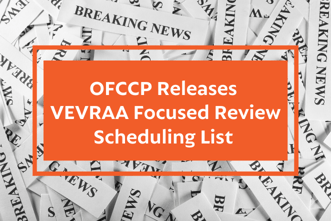 The Office of Federal Contract Compliance Programs (OFCCP) has released a scheduling list that includes the establishments that will be scheduled for focused reviews to evaluate their compliance with the Vietnam Era Veterans' Readjustment Act (VEVRAA). This list contains 500 establishments and is a supplement to the scheduling list first released on March 25, 2019 that included 3,500 establishments to be scheduled for compliance reviews, Section 503 focused reviews, compliance checks, Functional AAP reviews, or Corporate Management Compliance Evaluations.
In addition to releasing the scheduling list for the VEVRAA focused reviews, OFCCP has once again published their scheduling methodology, which provides contractors with insight into how the agency created this list of establishments. OFCCP writes that they created this supplemental list by starting with the establishments that had been determined to be eligible for review but were not selected to be on the March 2019 scheduling list. The agency then removed all establishments of companies that were on the March 2019 list. This means that if your organization was included in the March 2019 scheduling list, you should not be listed on the supplemental list.
The agency states that it then removed establishments that have contracts expiring before December 31, 2019. This information about contract expiration dates was gathered from data housed in the Federal Procurement Data System – Next Generation. OFCCP then removed any companies that were recipients of the FY2018 Medallion Award from the Veterans' Employment and Training Service at the Department of Labor, stating that these companies have already 'demonstrated a strong commitment to hiring and retaining veterans.'
The list of 500 establishments was then distributed across OFCCP field offices based on their staffing levels as of October 12, 2019. The list was then ordered by employee count within each district office, at which point they applied additional criteria to determine the specific number of establishments that each district office was going to receive for scheduling. This criterion included listing the establishments with higher employee counts first, as well as the requirement that no parent company have more than two establishments on this supplemental list. Establishments were then transferred between district offices and regions to balance the share of the workload.
In the last step of the process OFCCP randomly ordered the establishments and appended them to each district offices' list of unscheduled establishments. This means that each office will need to complete their share of the 3,500 establishments from the March 2019 list, before they can begin scheduling these VEVRAA focused reviews.
OFCCP has created a VEVRAA focused review landing page which provides contractors with more information about these reviews. This includes best practices, fact sheets, and a sample VEVRAA AAP. However, the scheduling letter that will be used for these VEVRAA focused reviews is not yet available and is listed as 'coming soon' on the website. Stay tuned to Berkshire's BALANCEview blog for updates regarding these VEVRAA focused reviews.