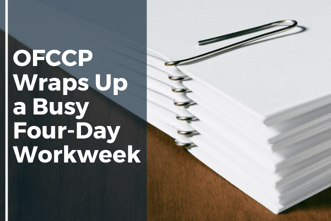 Despite the four-day workweek in honor of Veterans' Day, OFCCP watchers had a multitude of updates this week. Outlined below are three movements from the agency in the past few days:
Directive 2020-01 released
In conjunction with the VEVRAA review list, OFCCP released their first Directive of fiscal 2020, which directs compliance officers (CO) to include questions about contractor treatment of veterans' spouses in audits. The Directive states that in reviews, COs will remind the contractor of the nondiscrimination requirements for veterans' spouses and offer a sample nondiscrimination policy. In interviews, COs will ask if the employee is the spouse of a veteran, ask if they have coworkers who are spouses, ask for observations of how the contractor treats spouses, and provide online resources provided by VETS and OFCCP.
Letter on Jurisdiction
OFCCP also released its first opinion letter of 2020 regarding if businesses participating in the DoD's SkillBridge program are Federal contractors. Opinion letters do not carry the weight of regulations or directives but can be illustrative of agency positions. SkillBridge is a unique program that assists transitioning service members with finding employment in the private sector by allowing them to partner with a private employer during their last six months of military service. The program is somewhat like a returnship for employees who have been out of the workforce for some time.
OFCCP's opinion is that because the employer hosting the veteran is not providing "property or services" to the Federal government, the employers participating in these programs are operating under a cooperative agreement and not a contractual arrangement. Thus, the employer is not subject to OFCCP jurisdiction.
Proposed Regulating requiring PDNs
Finally, the agency published a notice to that it intends to issue a rule to codify Directive 2018-01, which directed COs to issue a Pre-Determination Notice (PDN) before issuing a Notice of Violations in some audits. In addition, the Directive indicated either the Solicitor of Labor or OFCCP National Office would review the PDN before it is issued to the contractor. This proposed rule means that contractors under audit will be able to respond to the PDN before receiving a formal list of violations and is a welcome update to OFCCP audit processes. The rule can be followed here.