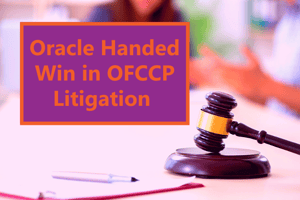 This week, USDOL Office of Administrative Law Judges issued a more than 200-page decision finding there was no evidence to support OFCCP's claim that Oracle Corporation discriminated against women and minorities. The decision, if not appealed by the OFCCP, means an end to court battles that started in January of 2017.
The Judge's decision provides a summary of the most significant findings. Specifically, Judge Clark stated that:
"…statistical evidence does not support an inference that Oracle is engaged in the alleged intentional compensation discrimination."
"Oracle did not engage in assignment, job classification, or steering discrimination…"
"Oracle did not have a policy or practice … of relying on prior pay in salary setting and OFCCP did not show a disparate impact attributable to such a policy on female employees…"
The finding for the contractor is not only a victory for Oracle but potentially carries broader implications for future OFCCP analysis. Stay tuned to this blog for a more in-depth analysis of this ruling in the coming weeks.