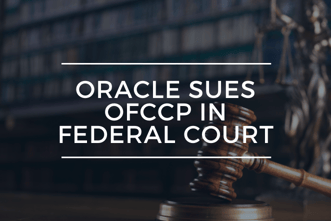 OFCCP began a compliance review of Oracle's Redwood Shores headquarters in January 2014. As part of the review, OFCCP concluded Oracle paid Caucasian male workers more while steering their female, African American and Asian counterparts into lower paying jobs. In addition, Asian workers were favored in hiring for certain technical roles over White, Hispanic and Black applicants. OFCCP requested routine employment data and records as part of the audit. Oracle's refusal to provide prior-year compensation data for all employees, certain hiring data, and employee complaints of discrimination to resolve alleged discrimination violations resulted in OFCCP filing the Administrative lawsuit against Oracle on January 18, 2017.
Oracle filed a separate lawsuit in federal court on November 27, 2019 after the Administrative Law Judge Richard M. Clark rejected request for summary judgement from both Oracle and OFCCP. Oracle's press release states "Oracle filed this case because it is being subjected to an unlawful enforcement action by the Labor Department utilizing a process with no statutory foundation whatsoever." Oracle claims OFCCP is "usurping the role of the Equal Employment Opportunity Commission (EEOC), the Department of Justice and the Courts."
The administrative hearings will continue over the next two weeks, after which a ruling is expected to determine if women and minorities at Oracle were subjected to both disparate impact and disparate treatment. That a contractor is challenging the system of enforcement and adjudication established by the OFCCP is an interesting development, and we will monitor developments in this case.