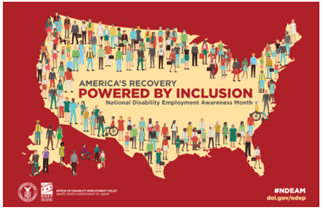 October is National Disability Employment Awareness Month (NDEAM), and what better time to incorporate this year's theme, "America's Recovery: Powered by Inclusion" into your workplace activities.
This year's theme emphasizes the essential role people with disabilities play in America's economic recovery from the COVID-19 pandemic.
The Office of Disability Employment Policy (ODEP) provides resources to employers on its NDEAM site. Here are just a few suggestions that your organization can consider to share its commitment to disability inclusion:
Social Media – consider sharing this year's theme online using NDEAM's Social Media Kit which provides tag lines, and other social information. You might also consider issuing a press release to really help spread the word.
Review Policies – October is a good time to review policies to ensure they convey your organization's commitment to an inclusive workplace culture. Additional information on building a disability-inclusive organization can be found at EARN (Employer Assistance and Resource Network on Disability Inclusion).
Educate Employees – ensure your employees know how they can request reasonable accommodations and provide workplace training so that every employee understands their role in fostering a disability-inclusive culture. The Job Accommodation Network (JAN) offers a variety of Just-In-Time Modules to help you get started.
Establish an Employee Resource Group – consider starting a disability ERG to give employees an opportunity to connect and receive support from other employees with similar interests or backgrounds. If your organization already has a disability ERG, why not remind them about this resource during the month of October.
Commit to 31 Days of NDEAM – use this 31-day commitment guide to help commemorate the many ways people with disabilities contribute to America's workplace and economy.
Voluntary Self-Identification – government contractors are required to obtain voluntary self-identification information regarding disabilities prior to and during employment, at a minimum every five years. If you haven't already, this month consider inviting your employees to voluntarily self-identify as a person with a disability using the current Section 503 approved form.
You can find more information on how to recruit, hire, retain, and advance qualified people with disabilities at https://askjan.org/ and https://askearn.org/.