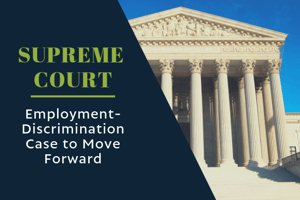 A former employee of Fort Bend County, Texas filed an EEO charge for sexual harassment against her former employer. After filing the charge, she was told to work on a Sunday. She said she could not do so due to church obligations. She did not show up to work on that Sunday and was fired. She then attempted to add to her EEOC claim by adding "religion" and "discharge" to the form, but she did not change the formal charge document. She then filed suit alleging religious discrimination and retaliation. SCOTUS is allowing this employment-discrimination case to move forward despite the fact that the EEOC claim she filed was not formally amended to include a religious discrimination charge.
After years of litigation including multiple appeals and dismissal of four other types of discrimination charges, Fort Bend County asserted that the claim should be dismissed because the claimant had not included religious discrimination in the formal complaint, a failure-to-exhaust defense. The Fifth Circuit Court ruled that the defendant had waited too long and therefore, had waived its right to this defense. Fort Bend County then appealed to the Supreme Court.
In its appeal of the Fifth Circuit ruling, Fort Bend County asked SCOTUS to consider whether Title VII's exhaustion requirement is jurisdictional. In other words, does a court have the authority to hear a claim if it has not been adjudicated by the EEOC? SCOTUS ruled that mandatory claim-processing rules such as Title VII's exhaustion requirement are non-jurisdictional and therefore may be waived if a defendant does not raise the objection properly. In this case, Fort Bend County forfeited this defense because it was not timely raised.
Still, this ruling does not nullify Title VII's requirement that discrimination complainants file their charges with the EEOC or appropriate state agency before bringing litigation in court. Ultimately, what this ruling means for employers is that when litigation for employment discrimination is received, the employer must verify that all charges alleged have been previously filed with the EEOC. If any claims being lodged were not filed with the EEOC, the employer must move to dismiss and/or object to the complaint in a timely manner or it could risk forfeiture of failure-to-exhaust as a defense.
Fort Bend County, Texas v. Davis, No. 18-525 (June 3, 2019)