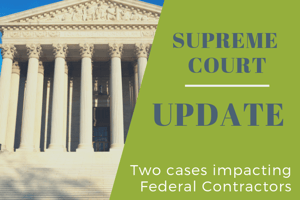 The U.S. Supreme Court has agreed to take on two issues that directly impact Federal Contractors this week. The first case is based on the Civil Rights Act of 1964 and debates the question of if that statue extends anti-discrimination provisions based on sexual orientation or transgender status. Federal appeals courts have come to opposing conclusions on this provision, from New York, Georgia, and Illinois.
In the New York case (Altitude Express Inc. v. Zarda), the court determined that sexual orientation is a protected basis, while the Georgia case (Bostock v. Clayton County, Georgia) came to the opposite conclusion. The case from the Illinois circuit (R.G. & G.R. Harris Funeral Homes v. EEOC) addressed the transgender question. Recently, the EEOC has taken the position that Title VII bars discrimination against the LGBTQ+ population, while the Trump administration has taken the opposite position in recent briefs. The Court's decision in these cases will help to shape future policy in terms of extending protections to these groups.
The second case addresses the Trump administration's decision to add a citizenship question to the 2020 Census form, to ensure compliance with the Voting Rights Act. The last time a citizenship question was included was in the 1950 Census, and this question was challenged by 18 states, cities, and nonprofit groups when it was inserted onto the form. Lower courts have repeatedly ruled against the administration's decision to include the question on the 2020 form. Since the Census form needs to be finalized by mid-year in order to be ready for the 2020 Census, this ruling is expected quickly.