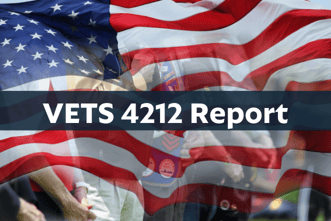 While many companies are focused on filing their EEO-1 Component 2 reports by the September 30th deadline, for some federal contractors, there is also the annual requirement for the VETS 4212 report to be filed by that date.
All federal contractors and subcontracts with a government contract in the amount of $150,000 or more in the previous calendar year (2018) are required to file a VETS 4212 report. The report includes the total number of employees and the number of employees who are protected veterans for each of 10 occupational categories. It also includes the number of new hires in the previous 12 months, and the number of new hires who are protected veterans. This information can be based on one of two dates – either the end of any pay period between July 1 and August 31st, 2019 or December 31st of the previous year (2018).
For purposes of the report, protected veterans are those veterans who are protected under certain provisions of the Vietnam Veterans' Readjustment Assistance Act (VEVRAA). Specifically, this includes veterans classified as an active duty wartime or campaign badge veteran, disabled veteran, Armed Forces service medal veteran, or recently separated veteran. Contractors must invite post-offer self-identification as a protected veteran. This is the source of the information used for the VETS 4212 reports.
If a contractor is doing business in one location, a single VETS 4212 may be filed. Contractors doing business at more than one location must file a VETS 4212 report covering the headquarters office and a separate report for each location with more than 50 employees.
The Veterans' Employment and Training Service (VETS), collects the VETS 4212 reports which can be submitted online, via email or postal mail. The preferred method for submission is electronic filing through the VETS web-based filing system. The reporting system for the VETS 4212 opened on August 1st and employers have until September 30, 2019 to complete the filing. More information is available here.
Be sure to subscribe to this blog for future updates.