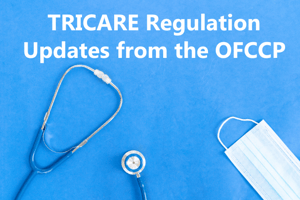 Effective August 31, 2020, obligations for contractors who solely provide healthcare for veterans and their families under TRICARE have changed.
TRICARE is the health care program for uniformed service members, retirees, and their families. Since 2007, the OFCCP had asserted jurisdiction over employers if they provide health care supplies or services to TRICARE beneficiaries. However, in a recent final rule, "Affirmative Action and Nondiscrimination Obligation of Federal Contractors and Subcontractors: TRICARE Providers" released in the Federal Register, OFCCP determined they lack authority to regulate healthcare providers solely because they provide services for TRICARE members.
The rule establishes a national interest exemption for TRICARE providers from the obligations in Executive Order 11246, Section 503 of the Rehabilitation Act of 1973, and the Vietnam Era Veterans' Readjustment Assistance Act (VEVRAA) of 1974. OFCCP believes this change will remove a disincentive for employers to participate in TRICARE as a provider, increase cost savings for TRICARE providers, and improve access to medical care for veterans and their families. The agency estimates this will affect approximately 87,000 providers.
Note, if an agency is a TRICARE provider with other federal contracts and subcontracts that meet the jurisdiction thresholds of OFCCP's laws and regulations, this final rule does not change those obligations. OFCCP plans to issue guidance soon on agreements regarding the Federal Employee Health Benefits Program and the U.S. Department of Veterans Affairs Health Benefit Providers.