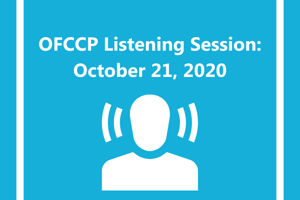 EO 13950 was released in September, and as part of the Order, OFCCP was directed to request information from the public regarding existing diversity and inclusion trainings in the form of a Request for Information (RFI).
Today, OFCCP announced the RFI will be published in tomorrow's Federal Register and announced a stakeholder call to take place with the USDOL's Office of Public Liaison tomorrow at 10:00 Eastern.
To join the call, dial into (800) 619-8535 and use participant code 4648956. More information about the Order is available here.