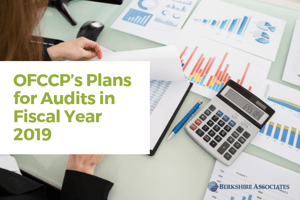 It's that time of year again. OFCCP is getting ready to release their next list of contractors who will be subjected to a compliance review in fiscal year 2019. The agency has indicated they intend to increase the number of audits this fiscal year to 3,500. These audits may consist of compliance evaluations, compliance checks, and focused reviews. This is the first time the since fiscal year 2014 that the OFCCP has planned to schedule more than 3,000 audits.
We have seen an increase in requests surrounding the 503 regulations (When was the last IWD survey? How many accommodations in the past 12 months, etc.?). With the OFCCP's plan to conduct focused reviews, contractors should begin checking their internal practices to ensure they are within the regulations, not just with Executive Order 11246, but also 503 and VEVRAA (as applicable).
Register for a FREE Webinar on OFCCP Section 503 Focused Reviews and How to Prepare Now
The agency has indicated Corporate Scheduling Announcement Letters will not be mailed, rather, the list of contractors that will undergo a compliance review for this fiscal year will be posted on their website. It is anticipated that the new list will be out by mid-February. If a contractor was on the 2018 list to be audited, these audit letters are still scheduled to go out, even if the new scheduling list is posted before the scheduling letter is received.
We will continue to monitor the OFCCP's movement on the release of the new scheduling list, along with the type of reviews they will be conducting. Stay tuned for more details.