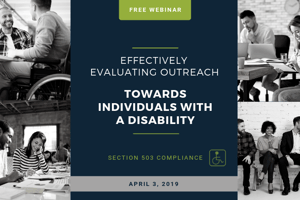 This week's highlighted Section 503 webinar is Effectively Evaluating Outreach Towards Individuals with a Disability with affirmative action compliance expert Sonia Chapin of Berkshire Associates on April 3 at 1 p.m.
As part of the Individuals with Disabilities Affirmative Action Plan, contractors are required to conduct outreach towards Individuals with Disabilities and evaluate the effectiveness of these outreach efforts. Join Sonia for a discussion of what this requirement means in practice and how it is already being applied in OFCCP audits as the agency increases its focus on contractor's outreach efforts towards Individuals with Disabilities. Attendees will learn how to best respond to questions about outreach programs during an agency audit.
Recently, OFCCP announced it would conduct focused reviews of federal contractors' Section 503 compliance during its Fiscal Year 2019 scheduling cycle. It is important for federal contractors to take the necessary steps to ensure equal employment opportunity and affirmative action for Individuals with Disabilities.
Check out other topics in this webinar series.