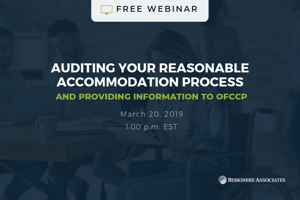 Plan to attend the next webinars in the Section 503 compliance webinar series. This week's highlighted webinar is Auditing Your Reasonable Accommodation Process & Providing Information to OFCCP. On March 20 from 1-1:30 p.m. EST, Cheryl Boyer, Vice President for Client Services at Berkshire will discuss the reasonable accommodations required for an otherwise qualified Individual with a Disability. With a deep background in managing human resources departments, Cheryl will discuss practical procedures for responding to requests for reasonable accommodations and the concept of "undue hardships." The webinar also will explain how contractors can respond to OFCCP's request for a log of reasonable accommodation requests during a compliance review.
Recently, OFCCP announced it would conduct focused reviews of federal contractors' Section 503 compliance during its Fiscal Year 2019 scheduling cycle. It is important for federal contractors to take the necessary steps to ensure equal employment opportunity and affirmative action for Individuals with Disabilities. This is the fifth webinar in Berkshire's Section 503 compliance webinar series.
Register today for this webinar on March 20, 2019, at 1:00 p.m. Click here to register and learn more about our other informative webinars in this series. With the help of our compliance experts, each webinar will provide you with helpful information to help you prepare for OFCCP Section 503 Focused Reviews.
Other topics in the Section 503 series include: