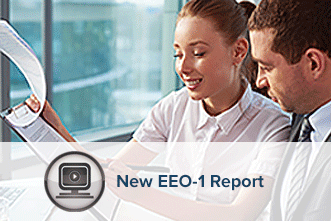 Recorded:
November
2016
Duration:
60
minutes

Cost:
Free
Credits:
SHRM: 1 HRCI: 1
Presenter: Lynn Clements, Director of Regulatory Affairs
View webinars on two recently-finalized requirements that impact federal contractors and subcontractors. Berkshire's Director of Regulatory Affairs, Lynn Clements, reviews how the new EEO-1 Report pay data collection requirements, and new rules for paid sick leave, impacts your organization on a practical level. View Recorded Webinars!
These webinars are designed to inform and educate attendees on recent regulatory changes and their requirements. View recorded webinars and be prepared.
Who Should Attend:
Webinars are ideal for affirmative action professionals, compliance specialists, and HR managers.
Please Note:
Berkshire plans to conduct a webinar on the Fair Pay and Safe Workplace Final Rule. However, on October 24, 2016, a federal judge recently issued a temporary restraining order and preliminary injunction blocking implementation of the most controversial provisions of the Final Rule. Berkshire Associates will monitor legal developments, and keep you updated on any newly scheduled webinar.
About the presenter: Lynn Clements is a former policy advisor at the DOL and served as the Acting Director of the Policy Division of OFCCP. She oversees OFCCP compliance audits for Berkshire clients and serves as a strategic advisor regarding EEO and Affirmative Action regulations.