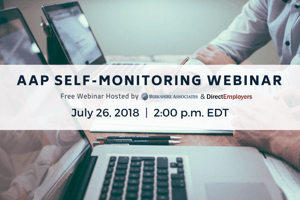 Duration: 60 minutes
Cost: Free
Recorded: July 2018
Presenter: Andrea Csordas, Affirmative Action Consultant
View this webinar with Andrea Csordás, a seasoned HR Consultant, to learn important aspects of AAP self-monitoring.
If you have a January plan, it has been about seven months since your AAP was completed. Have you checked your plans progress so far? During this free webinar entitled "What Federal Contractors Should Know About AAP Self-Monitoring" Andrea will share the importance of mid-year reviews for federal contractors. Andrea will also share the steps needed to gather and analyze data should the company find themselves under audit.
To learn more about this webinar hosted by DirectEmployers, or if you need assistance with affirmative action plan compliance, contact us at 800.882.8904 or bai@berkshireassociates.com.