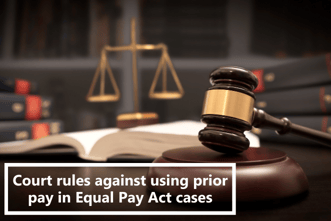 A decision from the en banc 9th circuit court last week echoed a prior decision that previous pay cannot be used as a "factor other than sex" to defend differences in pay under the Equal Pay Act (EPA). This decision was made in Rizo v. Yovino after a prior decision from 2018 was vacated by the U.S. Supreme Court due to the death of one of the panel judges before the opinion in the case was released.
The original case involved Aileen Rizo, a math consultant for Fresno County in California. In 2012, Rizo, who is female, discovered that she was being paid less than other math consultants, all of whom were male. The county explained they use a standard salary schedule for setting starting pay for all management level positions, which adds 5% to the employee's prior pay. Dissatisfied with the County's explanation for the difference in pay, Rizo filed a lawsuit under the Equal Pay Act (EPA). The county acknowledged that Rizo was paid less than her male colleagues but argued that prior pay was "any other factor other than sex," and therefore, under the EPA, the wage disparity was defensible. Under the Equal Pay Act, there are 4 factors that employers can use to justify differences in pay - 1) a seniority system, 2) a merit system; 3) a system which measures earnings by quantity or quality of production, or 4) a differential based on any other factor other than sex.
At issue in this case is if prior pay can be considered a "factor other than sex" under the 4th exception and, therefore, used as defensible reason for differences in pay. The majority ruling in this decision stated that prior pay cannot be considered a "factor other than sex" because it is not a job-related factor and since using prior pay as a factor in determining pay may perpetuate prior pay discrimination.
If employers collect or use prior pay to set starting pay, they should review compensation practices and run pay analyses to ensure that prior pay is not resulting in differences in pay based on gender that are unexplainable by other job-related factors.