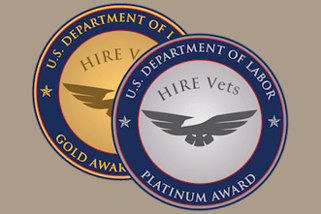 As previously reported, the Veterans Employment and Training Service (VETS) has released details about a new program designed to recognize employers with a strong track record in hiring and retaining Veterans.
There are three categories based on employer size:
50 or fewer employees
51 to 499 employees
500 and over
For gold status, all employers must be able to show at least 7% of new hires are Veterans and at least 75% of Veterans are retained.
HIRE Vets Gold Status Eligibility:
Large employers are expected to have several integration assistance programs in place, including a resource group, tuition reimbursement, and leadership programs.
Medium employers are expected to provide at least one integration assistance program and can demonstrate Veterans comprise at least 7% of the workforce.
Small employers are expected to show that Veterans comprise at least 7% of the workforce.
If an organization exceeds these metrics, they may apply for Platinum status.
Since this is the first year of the program, applications are limited to the first 300 submissions and will close on April 30, 2018. More information, including how to apply, is available here.