On January 8 at 1pm, Berkshire hosted a free webinar update on Section 503 Focused Reviews.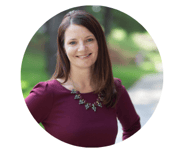 Berkshire Associates expert Lynn Clements, Esq., Director of Regulatory Affairs at Berkshire, breaks down what we've learned so far from recent OFCCP Section 503 Focused Reviews -- and how you can apply these insights to your own preparation for upcoming reviews.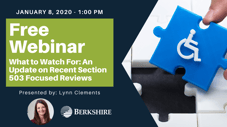 In this webinar, participants will learn:
What are OFCCP's priorities during the Section 503 focused reviews?
What kinds of follow-up questions has OFCCP asked?
How OFCCP is managing the onsite visits during Section 503 Focused Reviews?
Tips that all contractors can use to enhance their Section 503 compliance efforts?
Don't miss this fantastic opportunity to get ahead of the curve! Sign up for the webinar today.