AAAA 2014 National Conference Presentation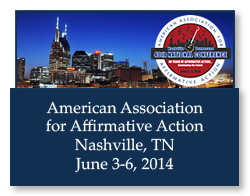 Recruiting Veterans and Individuals with Disabilities: Activities, Efforts, and Best Practices, by Cindy Karrow, SPHR, Berkshire Associates Senior HR Consultant
Thanks for your interest in Cindy's recent presentation at the AAAA 2014 National Conference in Nashville, TN. The presentation "Recruiting Veterans and Individuals with Disabilities: Activities, Efforts, and Best Practices" covered many important topics for HR and compliance professionals.
Recap the presentation and resource materials from the comfort of your own desk. Sit back and learn more!
Download a copy of the presentation and resources by completing the form to the right.