Even as little as a year ago, Office of Federal Contract Compliance Programs' (OFCCP) desk audits consisted of only requesting information about where contractors post their jobs, specific targeted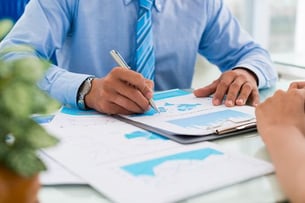 recruitment efforts, and perhaps even supplying a list of sources. Nowadays, OFCCP is taking a much deeper dive into tracking and requesting Good Faith Efforts (GFE) made by contractors. Such requests include proof job postings went to specific sites, and contact information for each website or vendor location.
Contractors must now shift gears and focus on building relationships with outside sources. From there, if a source underperforms and applicants fail to respond to job postings, contractors are expected to use a different source, or another outlet that targets specific groups.
Director of OFCCP, Patricia Shiu, has publicly stated, "Failure to hit a goal is not a violation. Failure to try is."
This means besides looking at the quantitative data requirements, OFCCP is now expecting contractors to track efforts related to Women, Minorities, Individuals with Disabilities (IWD), and Protected Veterans (PV). Contractors must find a way to track:
The name of the source agency or organization
The contact name and phone number
The group targeted through the agency
The results of the effort
The evaluation of each outreach activity to determine its effectiveness
Questions to consider when evaluating the effectiveness of outreach activities include:
Did the activity attract qualified IWD applicants or PV?
Did the activity result in the hiring of qualified IWD or PV?
Did the activity expand outreach in the community?
Did the activity increase capacity/capability to include protected classes?
It is strongly recommended contractors have a way to keep a list of how applicants heard about their open positions. The question, "How did you hear about us/this position?" should always be present in the job application process. Investing in an applicant tracking system and/or an affirmative action solution with the ability to track, capture, and store source information is ideal—and will keep information organized and readily available.

Under an OFCCP Audit, a Compliance Officer (CO) is likely to review source information to ensure appropriate outreach is being conducted, and evaluated, at the facility. This approach will not be a switch from the current audit questions and follow-ups, however, this operation is considered a new process for the agency. OFCCP expects contractors to provide tangible proof they are not only posting where they say they are posting, but they are making the necessary efforts to utilize vendors and sources that increase the chances of hiring a qualified Minority, Female, IWD, and/or PV.
Unfortunately, determining what may be good enough is a subjective evaluation done by each CO. With these new regulations, this approach may be deemed as good enough in one region and not enough of an effort by a CO in another region. As a best practice, contractors should post open positions and track each position with a requisition number for each job posting, plus keep track of which site the posting was published. The recruitment process should be communicated to Hiring Managers and they should have an understanding as to why their organizations are utilizing such vendors and efforts. All confirmations of attending a career fair, or electronic copies of job postings, should be kept on file and stored in a place that is easily accessible.
Tracking GFE's is now mandated by OFCCP. If you're a federal contractor looking for an easier way to do this, check out Berkshire's GFE tracker, REACH. This outstanding application is free to all BALANCEaap affirmative action solution users, and makes tracking and documenting your efforts easy. Click here to learn more.
For more information on GFE tracking, or affirmative action compliance requirements, contact a Berkshire expert at 800.882.8904.