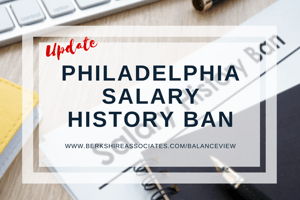 At the end of April, we reported that U.S. District Judge Mitchell Goldberg issued a preliminary injunction regarding a City of Philadelphia ordinance, which prevents employers from asking about a job applicant's salary history and using those salary histories to set wages. Judge Goldberg struck down the provision that employers are not able to ask about a job applicant's prior salary. He indicated there is insufficient evidence that a worker disclosing a salary that may be the result of past discrimination would mean the prospective employer would offer a lower wage. The City did not sufficiently address if lower wages could be the result of non-discriminatory factors such as qualifications or experience, and thus, he ruled it is acceptable for employers to request salary history.
Judge Goldberg cleared the second provision of the law, which prevents employers from using salary histories to set wages. Judge Goldberg disagreed with the challenge to this provision, which was that it was unconstitutional as a violation of the employer's right to free speech.
Both the City of Philadelphia and the Chamber of Commerce for Greater Philadelphia asked the Third Circuit court to review Judge Goldberg's decision. This sets up yet another Circuit to weigh in on the topic of compensation and salary history. Clients are advised to remove salary history questions from applicants in favor of current salary requirements.