FREE White Paper: OFCCP's VEVRAA and Section 503 Enforcement: What Federal Contractors Need to Know

H
i HR Professional, complete the form on the right and learn how OFCCP is reviewing federal contractor compliance with new VEVRAA and Section 503 requirements during audits.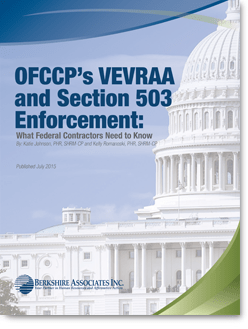 The new VEVRAA and Section 503 regulations are in effect, and the question on everybody's mind is how have audits changed? Berkshire's latest white paper discusses the new requirements, the current enforcement trends contractors can expect to see if they face an audit, and the steps they can take to prepare now.
Download the white paper to learn about:
Who's required to do what, and when

OFCCP's requests during Veterans and Individuals with Disabilities audits

Common questions during audits

Tips for proving compliance

Audit support information and resources



The new VEVRAA and Section 503 Regulations are in effect. Now is the time for federal contractors to prepare for OFCCP's new enforcement efforts!